Childhood Beginnings
I always have had a great love of animals and admired quality animals of different kinds. As a child I grew up in Iowa surrounded by animals and my favorite was my grandfather's Jersey cow, "Bossie", whom I spent many days talking to and petting. She was so gentle that she allowed me to tie her to the fence with thread, missing milking time, until my grandfather came to see why she was standing at the fence. I was 5 when she died and I recall being devastated at the loss of my dear, brown eyed, gentle friend.
I grew up with a dog in the house, but never multiples. My mother's parents lived a short walk away on a small acreage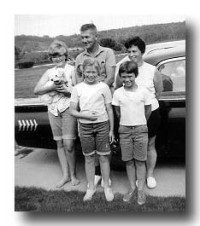 with a cow or two, pigs, sheep, rabbits, chickens and ducks. I spent a lot of time with my grandmother feeding the chickens and ducks, collecting eggs, and taking care of baby chicks and ducklings, working in her large vegetable garden, or cooking and baking. I loved horses, even well into my teens, and also collected all sorts of horse memorabilia, including statues and books.

The family dogs generally consisted of poodles, none of which had papers. We even had a litter of poodle puppies. I spent a huge amount of time taking care of them and was heartbroken as only a child can be when they were placed in their new homes. My father assured me that they went to good homes. We soon had our female spayed and our male was neutered. I was always trying to bring another dog or a kitten home, but my mother held firm and told me that I could have as many as I wanted one day when I had my own home. I am quite sure that she later regretted saying that! <G>
First Purebred Dog Experience
Just out of my teens in 1974, I purchased my first purebred dog, a Doberman Pinscher puppy bitch, from whom I later realized was a backyard breeder. Admittedly, they had done the breeding in order to have enough money to buy a new fishing boat! To their credit, they suggested that I subscribe to the AKC Gazette, which I did, and thus began my life in dogs. It has definitely been a vocation, not just a hobby, and like everything else in life, has had both its positive and negatives. I later bred my Doberman to a CH male. The owners were very generous with their time and helped place three of the puppies.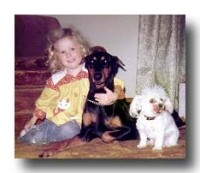 I ended up keeping two puppies from the litter and showed them with moderate success. I soon realized that although I loved Dobermans, I lived in town in a small house so I could not have more than the dogs we already had. I eventually placed the female pup, and moved to the country to a big house with a huge yard. I also decided that I should consider a toy breed and started my research as to what would be the 'perfect' breed for me.
Papillons Steal My Heart
In 1976, I came across Papillons and from that moment on, it has been a love story with a breed that makes me smile every time I think of them. I eventually wrote to the parent club and purchased the 1974 PCA Handbook. I scoured the photographs and read all that I could in order to help me to decide which breeders had Papillons that interested me. I wrote those individuals and avidly pursued my interest in the breed. It was almost two years before I obtained my first Papillon, but I never regret the wait or the amount of information I was able obtain in the interim. I had spent over a year writing to Pearl George of Kavar/Kvar Papillons and had been learning a great deal about the breed and her lines. It was a wonderful learning experience and certainly has impacted my life in Papillons now, almost 27 years later.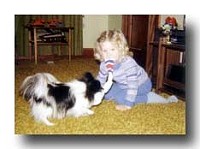 CH Kvar Supernova, "NOVA", was my first Papillon. I was able to purchase him from Pearl George in July of 1978. We attended our first dog show three weeks later where Nova was BOB at 8 months of age with me on the end of the lead. I was HOOKED!!!
Due to the family commitments of having two young children, I was unable to do a lot of traveling, so Nova was campaigned by Marcia Emmons and her partner, Sue Schlienz. In turn, my family and I took care of their personal kennel of Briarcreek Newfoundland and Sysame Pembroke Welsh Corgis & Pomeranians, while they were traveling to shows. Caring, even just on weekends, for their large show kennel, was an invaluable experience that gave me a foundation in dogs that may be overlooked in this day and age. These included simple lessons such as dog husbandry, dog behavior, individual breed behaviors, and behaviors of individual dogs. I even learned such basics as when to take a dog to the vet for something like diarrhea and when to treat it at home. Both of these women took me, a newbie, under their wings and were extremely generous with both their time and their knowledge of both dog shows and dogs in general. This period proved to be a real help in forming and building my foundation in dogs.
I was also fortunate to be able to attend seminars given by Rachel Page Elliott, as well as Quintan La Ham. These two individuals were incredible speakers and new their subject, structure and movement, very well. I am so happy that I came into dogs at a time when these type of seminars were given. They were true building blocks of a foundation that has served me well.
Nova became a multiple group winner and a sire of distinction with 13 champion offspring in very limited use. Nova lived to be 13.5 years of age. His temperament and love of life made him definitely all Papillon! What a wonderful way to start in a breed.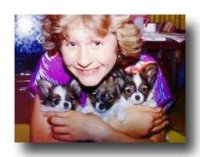 I will never be able to express my gratitude enough to Mrs. George for her generous giving of time in educating me, a novice, and allowing Nova to come live in Iowa with a total beginner who had two small children and two large Dobermans.
In April of 1979, Terry and I traveled to Huntsville to attend my first National Specialty. We met Pearl George as well as Mary Jo Loye, June Bramstedt and others that remain involved in the breed even today. I also met some of the old greats, such as "Doodles", CH Jaclair's Doodles of Josandre', CDX. What a thrill! I was a bit awestruck by all the people that I had read about and had the chance to actually meet in person.
CH Papstedt My Sharonna, "Sharonna", was my second Papillon and my foundation bitch. I was able to purchase her from June Bramstedt (Peterson), in September of 1979.
Loteki Papillons Is Born
The first Loteki (pronounced Low – Tea – Key) litter was born on February 2, 1981: three puppies, two females and one male. Terry and I took them to the 1981 PCA National Specialty in Ohio in June to be graded by some of the top breeders of the time: Pearl George, Mary Jo Loye and Ann Vradenburg. They were going to help June pick her puppy from the litter, which they did. One of the female puppies went home to live with June from that National. The other two became CH Loteki Star Trek Of Kasway, CD, "TREK" and CH Loteki Northern Lights, "TWINKLE".
I repeated the breeding. The first and only litter I have repeated in my life as a breeder. On October 20, 1981, my second litter was born - three bitches were born on a glorious sunshine filled fall day. This time all three of these girls became champions, two on the same day! CH Loteki Autumn Magic, CD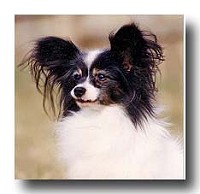 and CH Loteki Autumn Novena, completed their titles in March 1983, Novena in Texas with owner, Kate Bostek, and Magic with me in Iowa going BOB over her older brother, Trek. I remember the trip home in the sleet, freezing rain and snow. I was thrilled to have finished my first homebred champion myself! The third bitch in the litter, CH Loteki Harvest Moon, finished her championship later in the year. LOTEKI TOP PRODUCERS
Co-ownership in Magic was given to my good friend, Tracy Halverson, after her first litter and we co-owned her until 1996 when she was fully returned to my ownership. She is the all time top producer of American Champions with 18. Several of her sons and daughters were group winners and placers, specialty winners as well as performance dogs. Magic died on January 23, 1997, a very sad day at the King household.
Teki, CH Loteki Harvest Moon, died at age 14 years plus after producing a total of 8 American champions, including Am/Can CH OTCH Denzel Loteki Top Secret TD. "Zipper" was the first litter from what was to become a very successful joint effort of over 14 years between myself and my good friend, Tracy Halverson. Teki was co-leased by Tracy and then, bred to Tracy's CH Kvar Red Wings, CDX
In September of 1981, I purchased a second bitch, Emsjoy French Tarragon, "Tarra" from Emma Allen in California on the recommendation of Ann Vradenburg. (Laserna Papillons) Tarra's sire and dam were both bred by Ann. Tarra was a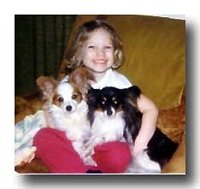 clear red and white with ear fringe. She hated to ride in the car and thus hated the shows, but did manage to win three points before I decided it wasn't worth forcing her to show so we quit at just three points, Tarra did produce 8 champion offspring for me. She lived to a grand age of 16 years 9 months.
People always ask what does Loteki mean or how did I come up with it. It is very simple, "Lo" from Lou Ann, "Te" from Terry, and "Ki" from King. I thought it had a nice sound and made a great kennel name.
My husband, Terry, although he does not often attend shows, does provide incredible support for me in so many ways! He makes sure that the dogs are fed, watered, and let out while I'm away at shows. He makes sure that my van is in good operating condition. He has driven 4 hours on a Saturday after already putting in 6 hours at work, to fix my van when I had a recent break down, and then 4 hours back so he would be home for the dogs. When the day ends, he finds his way to bed with some of his favorite Papillon bed buddies.
In 1995, my father died suddenly. I found this unexpected loss to be one of the most difficult events in my life that I have ever faced. There were days where it took all of my energy just to find my way out of bed. The dogs were a constant; they needed me but I came to realize that I needed them more.

Early in 1996, the 14 year old friendship and partnership with Tracy Halverson (now Burdick) dissolved. We found that we were not on the same path any longer with the direction of our respective and joint breeding programs.
The years that followed these early beginnings are told in the rest of this website. I always try to keep in mind that I was a novice, a beginner once, and that everyone is. I was very lucky to have Pearl George as a mentor, as well as Dorothy Guild, (MaChere Papillons) who was a constant pen pal for over 25 years. I have been blessed with a great number of people that have become my dear friends and extended family all through our love for this wonderful, unique breed – the Papillon.
Loteki Supernatural Being: The Kirby Story
In May of 1992, John Oulton saw Loteki Supernatural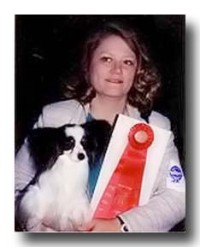 Being, "Kirby", shown in the BBE dog class at the PCA National Specialty show in Trenton, NJ. At that time, Oulton was the kennel manager for Mrs. Catherine Gauss (Cadaga Papillons) and was exhibiting at the same Specialty.
In June of that year, he approached me with a proposal for showing Kirby at the Greater Chicagoland Papillon club show. Oulton had already handled two Papillons to all-breed Best In Shows, CH Cadaga Chorinne and CH Kvar My Boy of Josandre. Initially, I was flattered, as Oulton wanted to be instrumental in maximizing Kirby's show potential.
After much thought and discussion, I reluctantly agreed to allow Kirby to go to Oulton for a proposed short period to see how they would develop as a team. On their first outing, August 1, 1992, Kirby won the Toy group at Pioneer Valley KC show. It was the following day that Oulton and I signed a written co-ownership agreement -breeding rights were not conveyed- and Kirby's AKC registration was transferred as co-ownership.
Several weeks later we learned that John Oulton was being investigated by the American Kennel Club for an incident in which he was involved at the Spaniel Club show the previous January. I was shocked! Oulton had never mentioned this to me. My heart sank; What was I to do? I spoke to Oulton who indicated that I should have known. He also said that he needed his friends and supporters at this difficult time, so it was with some reluctance that I did not make an issue out of this information.
Catherine Gauss died in January of 1993.
Oulton was suspended from all AKC privileges for a 9-month period. It started in May of 1993, I believe.
After his suspension was over, Oulton once again exhibited Kirby. He approached me about the possibility of allowing the ownership of Kirby to be transferred to a party that was willing to give him "carte blanche" with Kirby's show career. After finding out the details and giving it much thought, I refused.
He continued to show Kirby with success. In the meantime, he did obtain a dog that was to be 'backed' by the person that he had approached me with, and started a career with that dog. I suggested that Kirby be returned per our original agreement. Oulton refused.
Kirby continued to live in Connecticut with Oulton and was shown off and on. It was in 1996 that Kirby won the Toy Group at the prestigious Westminster Kennel Club show. Over the course of that year, with Oulton ably presenting him, Kirby amassed an incredible record. It is a record that stands today, some 8 years later, but I feel that some day there will be a Papillon that breaks it. I was able to follow Kirby's successes through friends on the East Coast. Since my refusal to sign off on Kirby, communication had become almost non-existent.
In February of 1998 upon arriving home from work the day before I was to leave for Westminster, I found a UPS overnight package in the garage. I was devastated when I opened it up and read the contents. I felt as if I had taken a hard blow to the stomach! In my hands, were legal documents in which Oulton was suing me to have our long standing written agreement nullified. He was also asking for full ownership of Kirby, his reproduction career, my home, my other Papillons and a large sum of money. Needless to say, I was reeling. I spent the next day contacting attorneys long distance, faxing information, and having a large retainer wired to an attorney that had agreed to represent me. Exhausted, I slumped into my airplane seat and flew to New York later that next day.
I spent the following 5.5 months traveling back and forth to Connecticut as well as spending hours on the phone with attorneys, experts, and digging up as much information as I could to present my case. It was discovered through his deposition that Dr. Stanley Sohn was financially backing Oulton. At the end of July, exhausted by travel, financially spent due to attorney fees and travel costs, and emotionally exhausted, an agreement was pounded out late into the night to settle this court battle. There was NO decision by the judge, the jury or the legal system.
The agreement gave full ownership to Oulton. In return, I was given a sum of money that was sufficient to pay my attorney fees, but not even in the ball park of the amount reported erroneously by author, Deborah Wood. It gave 4 yearly breedings to Oulton and four to me. I have had only three litters in total sired by Kirby since that time and I had to hire yet another attorney and make more trips to Connecticut, to even get those three!. The agreement is a public document on file in Federal Court in Hartford, CT.
In 1999, Kirby was Best In Show at Westminster. He captured the hearts of people all over the world, as he had done mine so many years before. I tried to purchase an official photograph of this historical win, but I was blocked by Oulton. Since I was no longer listed as an owner, I could not purchase a photo from the photographer even though I am his breeder. I do have many news articles, photos from magazines and even photos from store advertisements that appeared in Sunday supplemental flyers. Another individual drew a portrait and had it framed and sent to me.
Westminster and other shows of note
I attended my first Westminster Kennel Club show in 1986. At that time, the show was not only for finished champions. There were also classes so you could compete for championship points. It was an incredible 1st time, as WB was Loteki Laser Beam, co-owned and shown by Leona Domino.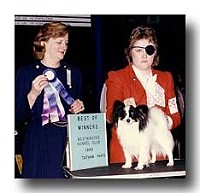 Hallmark's St. Nicholas was WD and BOW, co-owned with Tracy Halverson, Jeri Naylor and myself. I was on the end of the lead! I was fortunate enough to attend a few 'gatherings' and met Maxwell Riddle at the Dog Writer's Association dinner. I had torn my cornea and was wearing a black patch over my eye, which allowed Mr. Riddle's comment, "You have to be the cutest pirate at this party." Of course, I was the only person wearing an eye patch!
In 1993, CH Loteki Supernatural Being made his first appearance at Westminster, at the age of two years of age. He was BOB and made the 'cut' in the group. It was a thrill to watch him on television in Iowa with friends.
I did not return to Westminster until 1995, with Meg Klein (now Peifer, A'Capella Papillons). That year, 19 month old CH Loteki The Winds Of Fortune was BOB. Gusty was shown by Wendell Sammett. I was showing CH Loteki Royal Endeavor. Meg and I had many excellent adventures on that trip!
In 1996, CH Loteki Supernatural Being made history by being the first Papillon to win the toy group at the prestigious Westminster KC show. As his breeder and co-owner, it was a very exciting time for me. I remember jumping up and down and screaming my head off! WOW! What a night!
In 1997, CH Loteki Good Time Charlie, co-owned by Pamela Norberg and myself, was BOB at Westminster, creating quite a media stir as he beat out his uncle, "Kirby", for this honor. "Charles" was handled by our friend, Jan Bottorff. (Candid Labradors).
In 1998, CH Loteki Supernatural Being won BOB and went on to a Group III. Again, he made Papillon history, as he was the only Papillon to place twice in the group at Westminster.
In 1999, Kirby was Best In Show at Westminster, the only Papillon in history to accomplish this feat and a LOTEKI Papillon at that.

In 2000, I flew to New York with CH Loteki Beach Party, who was co-owned with my dear friend, Taeko "Meg" Suga of Toyko, Japan. Bikini and I are a team and enjoyed our time in New York both in and out of the ring. It was quite a surprise when we were chosen BOB! It was a fabulous win for Bikini and myself,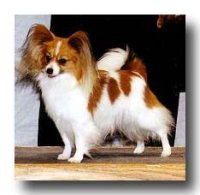 as she was the first bitch to win the breed in more than 10 years and shown by her breeder/owner – ME! We also received the honor that evening of making the "cut". It was a win I will not soon forget. I was very pleased that Taeko Suga was Bikini's co-owner, as she told me it was also a dream of hers to win BOB at Westminster. Bikini and I fulfilled that dream. Take a look at our LOTEKI AT WESTMINSTER page.
In December of 2001, Terry and I drove to Orlando, FL , with Kelli & Jeffery Alseth (Proctor, MN) to attend the first AKC/Eukanuba Invitational. It was the first week long vacation that Terry and I had taken together in 30 years! We did a lot of touristy type things, including Epcot, the beach, Daytona Speedway, as well as other Orlando attractions.
Four Loteki Papillons had qualified for this premier event, CH Loteki Supernatural Being, CH Loteki Chance Of Wind, CH Loteki Royal Heir and litter sister, CH Loteki Her Royal Highness. Two of the four qualifiers were in attendance, as Renee Pili broke her ankle and was unable to make the trip. Cindy Crowder showed "Alex" to an award of excellence as I showed Xena to BOB and Best BBE in BOB. It was an exciting win!
I have attended every single PCA National Specialty since 1979, except for 1982, when it was held in the San Francisco bay area. The National held in 2004 in Portland, Oregon, was my 25th consecutive specialty. I have been a member of the Papillon Club of America, Inc, since 1978. I have worked on numerous committees over the years, such as the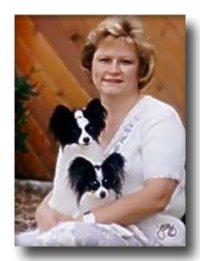 Nominating Committee, Pap Talk Committee, Trophy chairperson and fund raiser for the 1988 National Specialty and the breed awards committee. I created the logo, had the t-shirts printed, and funded the first t-shirt fundraiser in 1987 when the Board felt it was too risky financially for the club to invest a few hundred dollars in t-shirts as well as set up for the printing. All the profits from the sales went to PCA. In 1988, I again created, organized and funded the same type of fundraiser for PCA. I presently am the chairwoman for the Breed Awards committee (which I have served on for over 15 years), am serving as Pap Talk columnist for my region, and the Standing Resolutions Rewrite Committee, and serve as a mentor for Judges Education. To view our history at the PCA National Specialty, please visit LOTEKI AT NATIONALS.
Conclusion
I am presently a member of a number of Papillon organizations, including Papillon Canada, The Butterfly Dog (Papillon) Club (England), and the Greater Chicagoland Papillon Club, where I serve as Secretary at the present time and have been the newsletter editor and trophy chairperson for a number of years. I also have been a member of the Hawkeye KC and the Cedar Rapids Kennel Association.
I also am the original and present list owner of Papillon_Club@ yahoogroups.com. This e-mail list was created in December,1999, to serve as a forum for the members of the Papillon Club of America. It is an unofficial list, but one that is only for PCA members in good standing. I am also a member of a number of internet email lists, all of which provide information about Papillons.
Our two grandchildren, Trinity and Adam, are presently serving as great puppy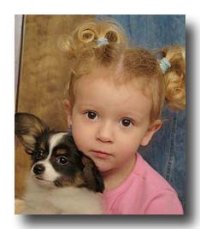 socializers. Adam has hopes of traveling with 'Nana' to shows and helping show Papillons. It is rewarding for me to see their interest as the circle of life continues.
So that is my story, a life in Papillons that has been filled with both incredible joy and devastating loss. I look forward to the future, as my life with these butterfly dogs is never boring, and I learn something new from them each and every single day.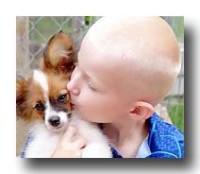 Please keep in mind that this, as well as other information on this website, are my own recollections and personal opinions. No part of this site, including layout, text, or images, may be copied or otherwise reproduced without my written consent.
------Lou Ann King, Loteki Papillons